My Funny Valentine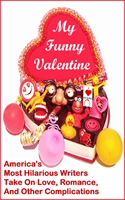 Laughing with love is the perfect antidote to the problem of both wintertime blues and finding a perfect and unique Valentine's Day gift. My Funny Valentine, an anthology of Valentine's Day humor from forty of the country's top humor writers, makes the perfect holiday gift: It doesn't go bad in a week like flowers, has no calories like candy, is less expensive than jewelry, and will probably be more appreciated than lingerie.
The writers here are contest winners, syndicated columnists, book authors, working comediennes, writers and producers for television shows, joke mongers for famous comics, and beloved cartoonists. An inexpensive, pocket-sized book focused on Valentine giving and lightening-up, My Funny Valentine is a condensed packet of laughs and smiles.
Mark's column "Valentine Fail, or: Where to Sleep When You Don't Own a Doghouse", originally appeared in The Albion New Era  and is reprinted in My Funny Valentine.
Purchase
Ebook
Print
Use the Paypal form below to order a signed (or unsigned) print copy directly from Mark (NOTE: This book is signed only by Mark, not all the authors included.)