Storm Chaser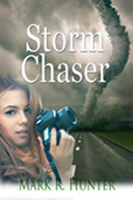 When Indiana State Trooper Chance Hamlin accidentally arrests Californian disaster photographer Allie Craine on false charges, it's not a match made in Heaven – or anywhere. For reasons of his own, Chance hates photographers, and he's not fond of Californians, either. Now someone is causing local disasters just in time for Allie to get the shots, and that someone might be Allie herself. There's a storm coming – in more ways than one.
eBook Purchase Links





Print Copies
From the author
Use the Paypal form below to order a signed print directly from Mark.